Upcoming Performances
Martin will be performing poetry at the Christmas Jazz Night at St. Mary's Stoke Bishop, Bristol, on December 16th. His talk and performance Saving the Planet through the Power of Poetry will be the Christmas event at Bristol Naturalists Society on December 20th.
The world premiere of King Frank and the Knights of the Ecoquest as a live staged radio play (with a cast of sixteen and a monster!) was performed at the Emirates Literature Festival in February 2023. Martin also performed his one-man show and judged a poetry competition.


King Frank - the World's First Epic Eco-Poem Wins Award in New York
Martin's epic eco-poem for children King Frank and the Knights of the Ecoquest has won the Bronze Award for Best Children/Young Adult Programme at the New York Radio Festival 2022. It was first broadcast in 2021 as a fifteen-part children's drama on digital broadcaster Fun Kids. It's now available as a podcast at https://www.funkidslive.com/podcasts/king-frank-and-the-knights-of-the-eco-quest/ The poem is twenty-five thousand words in rhyming couplets with nineteen characters. It's the world's first epic eco-poem for children and was produced by Soundscape Productions. The series stars legendary singer and actress Toyah Willcox.
The book, with illustrations by Sarah Vonthron-Laver, is also available to buy here http://www.greenpoemsforablueplanet.com/ The King Frank project has also been available to schools as a workshop which introduces children to different poetry forms as well as environmental issues.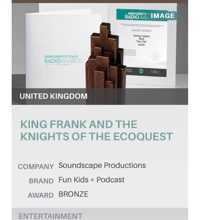 London, Dubai, and the UNESCO Voices of Future Generations
Martin was pleased to give performances, workshops, and present awards at the Emiirates Airline Festival of Literature 2020 in Dubai. https://www.emirateslitfest.com/authors/martin-kiszko/ and also perform and give a workshop at the National Poetry Library, Southbank Centre, London. Martin's new poem The Arabian Horse https://vofg.vofgarabia.org/blogs/post/the-arabian-horse-the-thousand-and-second-tale-from-the-arabian-nights was written for Voices of Future Generations (Arabia) a unique writing initiative under the patronage of UNESCO, created to promote sustainability and the UN convention on the rights of the child.
Green Shoots
New books! Martin's autobiography Major & Minor Adventures in Lah Lah Land was published in 2020 and will be republished by Pegasus Publishers in 2021. The book describes Martin's journey from a council estate in Leeds to becoming a film composer and an eco-poet. Available at http://www.martinkiszko.com/discography.htm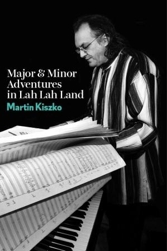 .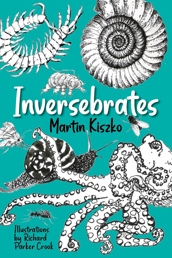 A new collection of poetry Inversebrates is also complete and is illustrated by Richard Parker-Crook. The collection is about many of the creatures that inhabit our beautiful world. The book also shows the reader how to write using the poetry forms of the poems in the collection.


GREAT GREEN NEWS! Martin was awarded an honorary doctorate (D.Litt) for his work received the award from the University of Bristol. Thanks to all my supporters and encouragers who have contributed to this success whether in the environmental, music, screenwriting or academic fields!

Green and Grown
Martin's recent performances include a poetry set at Future Leap's Festival of Sustainable Business Gala Dinner and Awards Ceremony in Bristol, a performance at the Lancashire Fringe Festival, and two performances of his Green Poems for a Blue Planet one-man show at the Royal Albert Hall. The performances were followed by an interview at the Imperial College about his poetry and environmental work.

Previous work incuded a performance for Triodos Bank, and at the National Honey Show in Esher.Green Poems for a Blue Planet also went to China as part of The Bookworm Literary Festival in Beijing and to India where he performed and gave workshops at the Neev Literature Festival in Bangalore. Congratulations to all the young people who wrote such amazing eco-poems! He also performed at the Ways to Peace Festival at Tintern Abbey in Wales and at the Ecobrand CSR and International Sustaninabilty Awards at RADA in London. He even found time to perform for The Future Economy Network in Bristol.

The UK's green poet also ran a successful workshop with charity Frank Water, performed again for the Cotswold Dogs and Cats Home as they launched a new building for our four-legged friends, and performed for the Lord Mayor of Bristol's Charity Gala Dinner to help raise funds for the city's most disadvantaged children.
As part of Bristol 2015 European Green Capital year, as Poet in Residence,he gave many workshops and performances including: performances at the Gilded Balloon at the 2015 Edinburgh Fringe Festival, performed to 400 children as part of St. George's Sounds Inspiring Festival, rhymed the hours away at Penny Brohn Cancer Care National gardens Open Day, gave two shows at St. Mary Magdalene Bristol,was featured for a week on the TV programme THE SOURCE on the Made in Bristol TV Channel and made three films of his poems for the Bristol 2015 schools website.
Martin premiered his specially-written poem entitled Keen to be Green for the official launch of the Bristol Green Capital Schools Programme on 'Keen to be Green Day' The Mayor of Bristol officially launched the new programme. Especially fun were the six performances of POET IN THE SQUARE that he gave in Bristol's Millennium Square.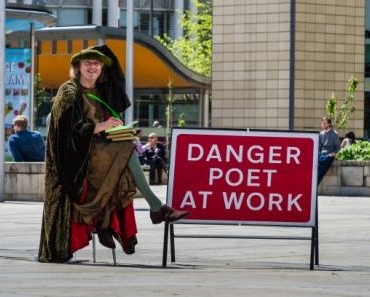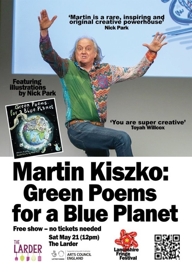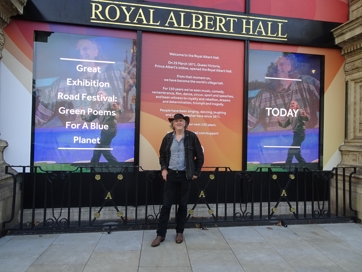 Other baa-breaking news was that the bardic and b'ewe'tiful.Green Poems for a Blue Planet SHAUN THE SHEEP was displayed on the streets of London and Bristol and is now in Basingstoke!

Martin performed at the Opening Ceremony of Bristol 2015 European Green Capital and the Civic Dinner in his role as POET IN RESIDENCE BRISTOL 2015 EUROPEAN GREEN CAPITAL. After sevral performances around Bristol and the region's schools, the green poet

travelled to Conwy where he performed for winning schools of the WaterAid 2014 and 2015 poetry competitions. He then powered up his poetry at Bristol's Big Green Week, the Seed Festival Stroud and at Bristol's Cycle Sunday where he performed 'poetry in motion' whilst riding his Pashley green bicycle! On his travels again, Martin gave sixteen performances and workshops at schools on the Isle of Man and performances and workshops n at the Plough Arts Centre in Devon. The Green Poems for a Blue Planet Print exhibition was also on show for two weeks and children who took part in the workshops also created and exhibited their own green poems on junk and litter at the Plough gallery.

Green Poems for Pope Francis! Martin recently received a letter from the Vatican. Pope Francis has received Martin's books of poems and is supporting the Green Poet's mission with prayer!! See my blog.

In addition to winning a 2014 Cilmate Week Award for Best Artistic Response to Climate Change, Martin won an award at the International Green Apple Awards for Education and Training.The Ministry of Education in Cyprus also chose his poem Water Walk to be a part of the English language learners' curriculum.

Poems on Water, Martin Kiszko and WaterAid's national water-themed poetry competition, attracted over two thousand entries from all over the world and reached over 1.3 million people! Martin is performing at the schools of the winning entrants. Martin gave a speech and performed at WaterAid's Annual Supporters Meeting in London where two of the young winners Jai Mark and Morro Barry performed alongside.
Keep a Green Eye Out For...the Green Postie Poet Competition!
Can you spot the Green Poet Postie - Martin Kiszko the 'UK's Green Poet' - riding his green Pashley bicycle around the cycle paths, streets and hills (!) of Bristol. If so, you may see him handing out invitations to enter the 3rd Green Poems for a Blue Planet poetry competition! He'll be telling you about the power of poetry to highlight environmental issues and will even be spreading the Power of 'Pooetry' as he performs his well known and well loved Poo Power poem for passers-by! Let's hope someone clears up any rhyming couplets he leaves behind!

Green Poems for a Blue Planet Poetry Competition winners can win books or a live performance of Martin's one man show for their school. The 'UK's Green Poet's one man show has been performed from Los Angeles to India, from China to Dubai and from Malta to the Isle of Man. It is based on his two funny and challenging environmental poetry books Green Poems for a Blue Planet and Verse for the Earth both illustrated by Wallace and Gromit creator Nick Park.

The poems explore what it means to be green! (Or not!) UK reviews have described Martin 'funny, enlightening and thoughtful' and 'sheer environmental magic.' There is also a touring exhibition of the poems and illustrations available to organisations and galleries and curated by Adam Glen. Martin says, 'I'm pleased to be poetry powered and powered by Pashley as I 'pedal' my poetry. Children and families alike have been captivated by the green bicycle, the green poet and what it means to be seen to be green!'
365 Greenquips
Throughout 2020 Martin wrote and posted 365 GreenQuips: 365 daily oft amusing but challenging environmental posts on Facebook, Linked In and Twitter.
YouTube
Take a minute out to look at the new films including Water Walk made with WaterAid and shot in Madagascar.
Grollywood!
Green Poems went to Bollywood! Martin performed at the National Centre for the Performing Arts, India. 'You were a great hit!' Anil Dharker, Mumbai Literature Festival.
The Beano
Martin's poem ENERGY LAUGH was published in THE BEANO - one of the world's longest running children's comics!
Broadcast
Martin was featured on the Steve Yabsley show on Radio Bristol. He has also been interviewed on BBC South's news programme about his work with WaterAid and water companies and schools across the UK. Other broadcast performances and interviews have included BBC's BLUE PETER, with the book also featured on Blue Peter's Bookclub website.
Martin also read poems on BBC Radio 4's series SAVING SPECIES and on BBC Radio Bristol and was featured for a week on the programme THE SOURCE on Made in Bristol TV channel.
Past Performances and Workshops
Martin's extremely theatrical and physical performances have been featured on BBC's flagship children's programme BLUE PETER, at the Eden Project Cornwall, Bristol's Festival of Nature, the International Green Awards Ceremony at London's Natural History Museum, Green Apple Awards Ceremony London, 10:10 Environmental Awards Ceremony, Latitude Festival,the Hoo-Ha Festival, Ilkley Literature Festival, Bath Literature Festival, Birmingham Libraries Young Readers' Week, Greenscreen Film Awards Festival Sheffield, and Colston Hall 2 Bristol where Martin's poems were accompanied by the Bristol Ensemble Orchestra.
One of the world's longest running comics THE BEANO has published one of the poems. Martin also joined Bill Oddie and Simon Barnes on the panel of judges for the The World Land Trust's limerick competition. Martin is currently touring schools and colleges throughout the UK with performances and workshops. His most recent work has been in association with WaterAid and he gave performances and workshops at Yorkshire Water, Southern Water, Welsh Water, Thames Water and at London's Canary Wharf to launch World Water Day! He recently performed at Lincolnshire County Council's launch of the CaNeBuZo Carbon Neutral Business Zone for which he has written a poem Canebuzo Canebuzo! Catching his breath, he went on to give a speech and perform at WaterAid's Anuual Supporters Meeting in London. He was Poet in Residence for Bristol 2015 European Green Capital.
Press
Interviews, poetry and articles have appeared in BBC Wildlife Magazine, Venue magazine,Bristol Evening Post, Bristol Review of Books magazine, Bristol magazine, Spongebob Squarepants comic, The Beano, Made in Bristol TV, and online mag www.Essentialwriters.com
Serving and Saving the Planet through the Power of Poetry!